Why Hasn't Anyone Told You The Truth
Are You A Proud Owner Of A Brand New Puppy? Then you'll want to hear the full, uncensored truth about how you can avoid paying up to $1,200 to train your dog and still have a perfectly housetrained, well-behaved pet that responds to your every command.
If you are eager to "housebreak" your dog because you have to put up with it making a mess - pooping, peeing around the house - digging, scratching, spilling, destroying your furniture and other unruly behaviour - here's what you need to know:
You Can Control 99% Of All These Behaviors
Without The Need For A Professional Trainer!
Because while these incidents annoy you when they happen - here is the real tragedy!
Some Pro-trainers charge HUGE sums of money to train your dog. But in truth they only depend on a few simple methods to get your dog to behave perfectly. What these high-priced trainers won't tell you is that these are methods anyone can learn. Methods that may seem incredible to the average dog owner but are actually quite simple.
Otherwise, how could so many dog owners like you train their own dogs? Check it out for yourself:
Rudy Romero
Owner of a Bull Terrier


California, US
...I was having problem with her listening to commands like sit, stay and come...One thing the book mentioned was how hard it would be to get her to respond to the command COME. That was so true....I was able to speak to a trainer who gave me advice on the proper way of training Abby....Abby is now listening and following most commands. I would recommend becoming a member of the Elite Dog Club. They helped me and Abby.
Watch this video
Please note that these videos were recorded by our customers using their handphones. They may not be of professional quality. But you will get to see how actual dog owners have really benefited from our course.
Click on any of these videos to play
<
Rudy Romero
California, US
Teri Graham
Washington, US
Shirley Kaminsky
California, US
Trude Reiser
Illinois, US
Theresa Santa
Arizona, US
Rick Smith
Florida, US
Terry Vines
California, US
>
As a proud new dog owner you want what every other caring owner wants:
A dog that is fully house-trained
A dog that doesn't destroy stuff around the home
A dog that obeys your every command
A dog you can control in any situation - at home or in public
A dog that listens - even at a distance
But you don't need to have a Degree in Dog Handling in order to coax this behaviour from your pet.
With proven methods of Dog Training, you can see a radical change in your dog's behaviour almost immediately. This is the truth.
With these methods you can quickly house train your dog. Correct any of its unwanted behavior - from pooping in the house to scratching your furniture to biting and nipping and digging in the yard. You can keep your precious pup from crying, howling, and whimpering at night...guaranteed.
You can get your dog to walk on a leash by your side without pulling you. You can use treats effectively to get them to behave the way you want. You can understand what your dog is thinking in an instant and learn the best way to communicate with it. You can take advantage of your dog's natural desire to obey you.
And that's exactly what so many of our customers have done. Here is what they have to say: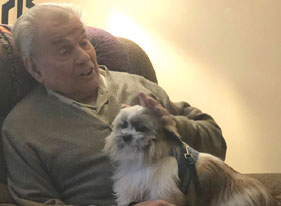 Marianne Sailus
Owner of Pomeranian


Pennsylvania, US

I am sooooo excited!!! Sally found the problem -- and I've had little problems ever since! I did not realize that small dogs don't like people "looking when they're doing their business." He always peed in front of me, but only when I left him alone outside did he begin to poop! Thank you, Sally, for your wonderful knowledge and your information. Picture attached of my Dad with our puppy.
Here're some customer feedback about our FREE Training course