"WARNING: You Could Be Feeding Your
Beloved Dog To Its Death... By Using
Commercial Pet Food Or By Listening To
Pseudo Dog Nutrition Experts!"
STOP! For The First Time, Read What Unbiased,
Scientifically Trained Canine Nutrition Experts Have To Say
About Your Dog's Diet & Nutrition... Instead Of Falling
Prey To Half-Truths Spread By Your Pet Food Company!
From the desk of Nancy Richards
Dog Enthusiast, Owner of TrainPetDog.com
Dear Fellow Dog Owner,
When you feed your pet dog today, can you place your right hand over your heart... and unequivocally say that you're feeding it food that is 100% beneficial for its well-being?
Can you guarantee that you are feeding your dog the most suitable diet based on its breed and age?
Guess what...
Most Dog Owners Can't!
But it's not really your fault.
You see, most dog owners are not scientifically trained in canine nutrition. Most of what we know comes from hearsay, our own limited observations and what all those pet food companies have been feeding us through their multi-million dollar marketing campaigns.
In fact, the pet food industry is such a lucrative and profitable industry that pet owners in America spend...
US$16.2 Billion ($16,200,000,000)
A Year Buying Pet Food!
With pet owners willing to spend so much money on their pets... is it any wonder that pet food companies will do whatever they can to sell their products?
For the longest time, pet food manufacturers have been guilty of these inhumane cost-cutting practices... such as...
Using worthless or spoilt meat unfit for human consumption, such as intestines, blood, bones, lungs & ligaments of carcasses, road kills and euthanized animals (including dogs!)

To prevent these potentially harmful parts from ever being manufactured into human food, they are "denatured" first by adding chemicals such as carbolic acid, fuel oil and kerosene!



Spraying a harmful layer of fat on the dog food to create an "aroma" that attracts your dog... This greasy fat comes from leftover restaurant oil and other inferior sources. Without this "cheap trick", your dog wouldn't go near that pet food with a 10 foot pole!



Adding artificial flavors, colors and preservatives to improve the appearance and taste, and to increase its shelf life. Many of these chemicals, such as ethoxyquin are carcinogenic and cause liver diseases.



Truth be told, I can't think of a single dog owner who doesn't become angry after realizing that those well-packaged "premium" dog food they have been paying for all the while is actually made from recycled crap.
And while we humans can choose the food we eat and make informed choices...
What Has Your Poor Dog Done
To Deserve All These?
Well firstly, dogs make easy targets. Since they can't speak or express their feelings in words... they can't complain about the taste of the food they're eating... or whether their bodies feel right after eating it.
Very often, dog owners leave their dogs with very little choice! Either Rocky finishes his bowl of food... or he gets nothing to eat! You may be guilty of this as well.
Next, dog owners are always looking for convenience. That's what makes us so susceptible to the "tricks" that pet food companies have been playing on us... such as sleek, modern packaging and attractive sounding phrases.
Finally, many dog owners are under the misconception that only these multi-million dollar pet food companies can produce high-quality, nutritious pet food. But as we have seen, these greedy bastards are only after your money... and will do anything to increase their profits.
Dog Food Myths You May Have Bought Into!
MYTH #1: Commercial dog food is more nutritious and better tasting for my dog, since manufacturers conduct extensive research into what my dog needs and wants.
FACT: As we have read above, this is not always the case. Due to the increasing pressures to cut costs and remain competitive, many dog food manufacturers resort to a variety of "tricks" to make their food taste better.
MYTH #2: Preparing homemade dog food is expensive.
FACT: If you know the right way to do it, preparing your own dog food saves you an average of 30% to 60% each month over buying commercial dog food... and takes less time than going to the store and stocking up on dog food.
MYTH #3: Preparing homemade dog food is time consuming and inconvenient.
FACT: Homemade dog food is prepared using the same ingredients as your everyday cooking... which means you don't have to spend time going to the store and stocking up on dog food. Besides, you can prepare the food in "batches" that can last a week or two each. All you need to do during mealtime is to dish out a portion of the food you have previously prepared. This makes homemade dog food as convenient as any commercial dog food... but safer and more nutritious!
While the recent spate of dog food recalls has drawn considerable attention to these unethical pet food manufacturers and exposed their lies... it has also resulted in...
Pseudo Dog Food Experts Who
Claim To Know What's Best For Your Dog!
All of a sudden, everyone out there seems to be touting the "best" recipe and best way to feed your dog.
With so much misinformation on the Internet nowadays, and considering how easy it is for anyone to proclaim themselves a "dog nutrition expert"... who should you trust?
Here at TrainPetDog.com, we have been providing reliable, unbiased dog care advice over the past 4 years, with 37,766 satisfied long-term members. When our dog-loving members came to us for diet and nutrition advice given all the confusion out there... we knew we couldn't disappoint.
That's why we sought the help of some of the most qualified dog nutrition experts around today... such as...

Dr. Susan Lauten
PhD & Founder of Pet Nutrition Consulting

Dr. Susan Lauten graduated from Auburn University with a Masters in Animal nutrition, and was trained at the Scott Ritchey Research Center at the College of Veterinary Medicine at Auburn University. She also holds a PhD in biomedical sciences.

Dr. Lauten runs Pet Nutrition Consulting, which provides veterinarians and pet owners with sound, unbiased nutrition advice. Dr. Lauten is also a Clinical Instructor of Veterinary Nutrition at a Veterinary Teaching Hospital.

Recently a guest of Dr. Marty Becker on "Top Vets Talk Pets" and interviewed by The Oregon Live, she has authored several peer-reviewed articles and veterinary nutrition reference book chapters.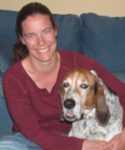 Dr. Jennifer Coates
Veterinarian, DVM

Dr. Jennifer Coates graduated with honors from the Virginia-Maryland Regional College of Veterinary Medicine in 1999 and has since practiced in Virginia, Wyoming and Colorado.

She is the author of several books about veterinarian medicine and animal care, including the highly-acclaimed Dictionary of Veterinary Terms.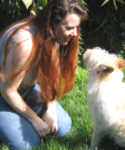 Sabrine Contreras
Professional Canine Care / Nutrition Consultant
Certification in Animal Care, University of Guelph, Ontario Canada

Sabrine is a professional canine care & nutrition consultant who has been involved with dogs for over 25 years. Her fields of specialization are in natural, preventive dog care as well as canine nutrition, with thousands of hours research and academic training.

Originally a native of Germany, Sabrine has done extensive research into commercial dog food since 2000.